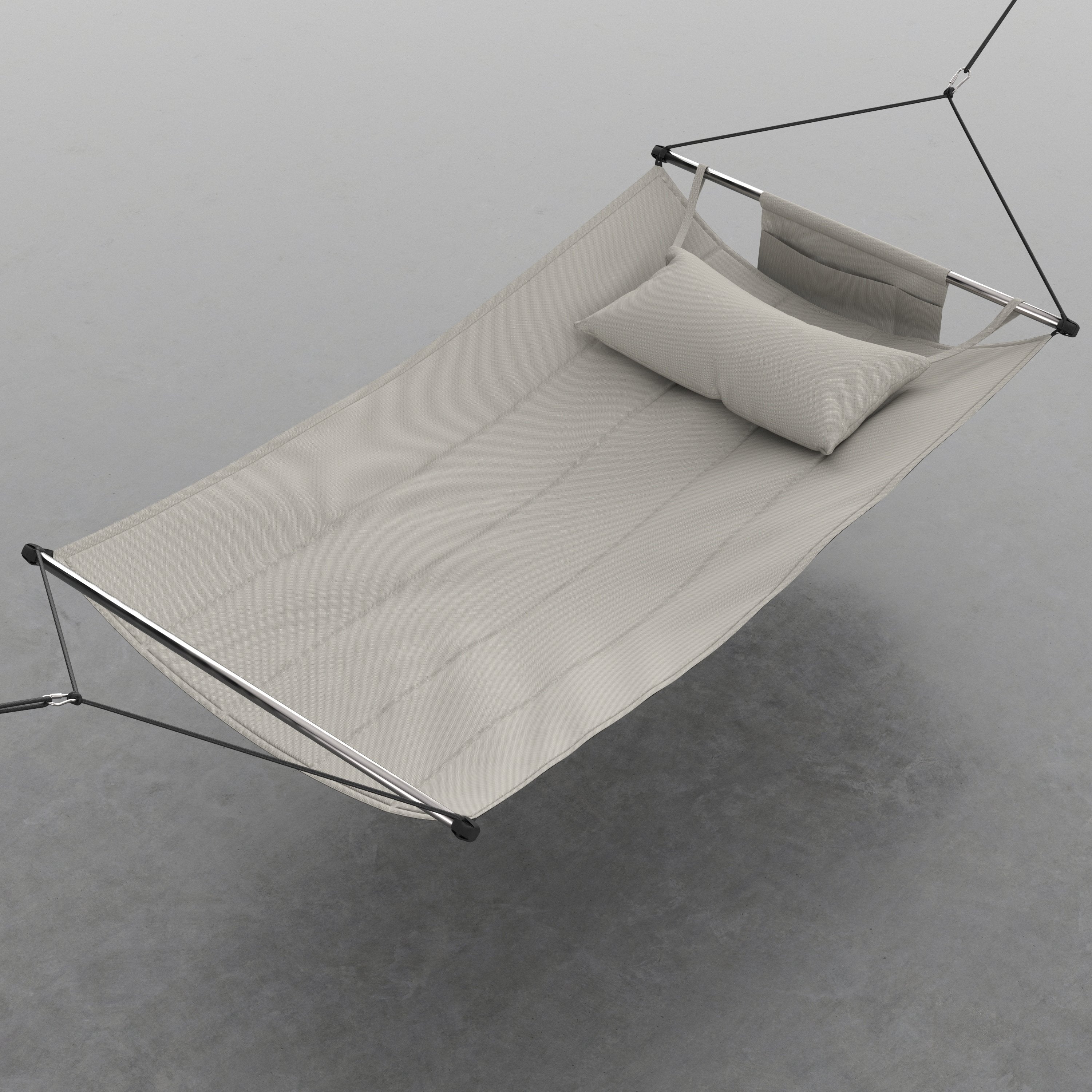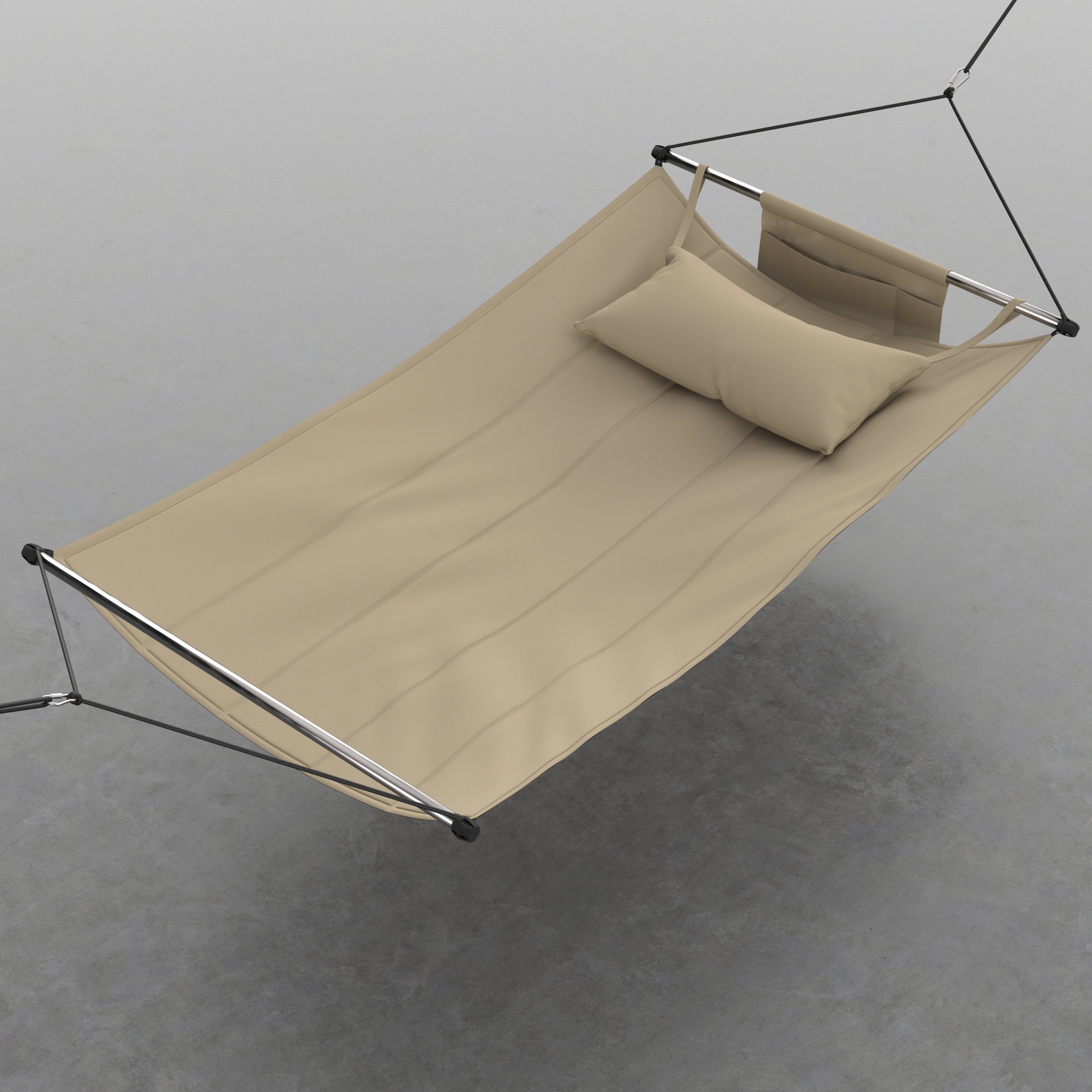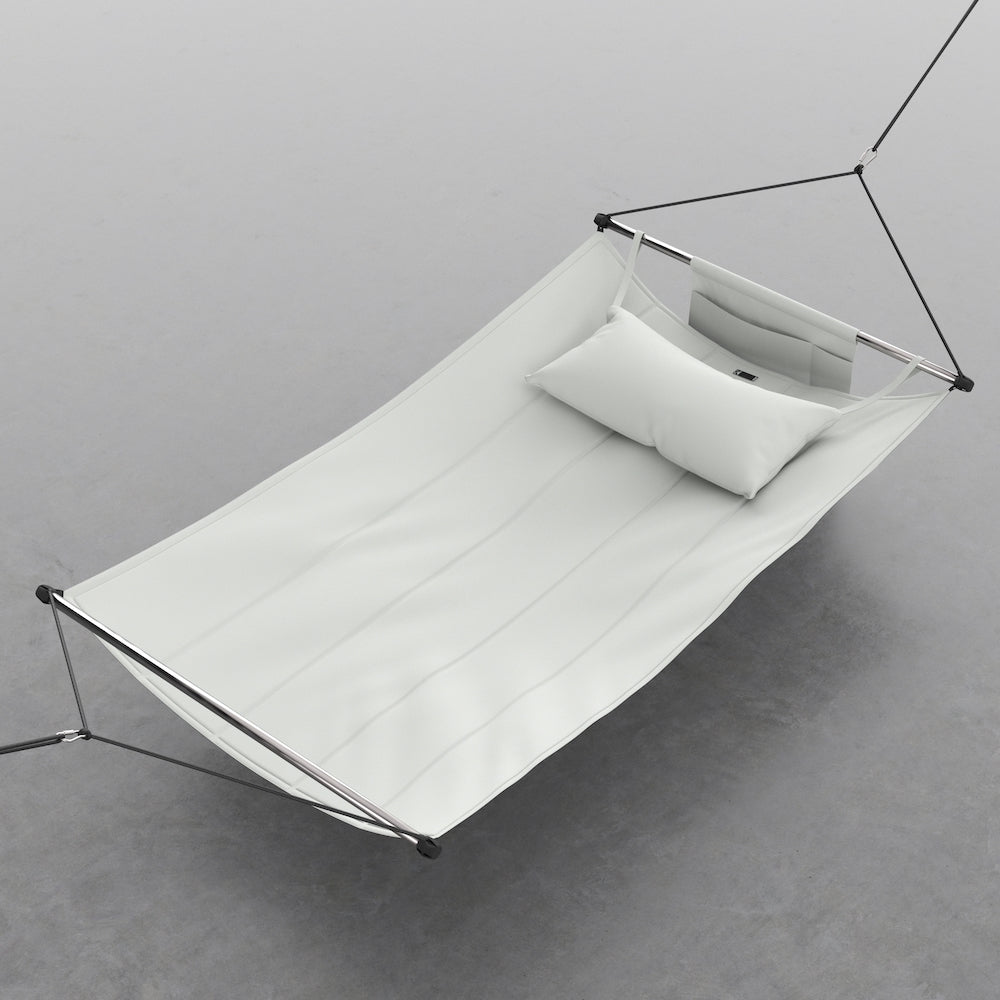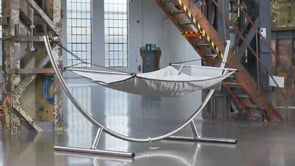 Preis für die Hängematte OYSTER, inkl. 2x 2m Seil, ohne Ständer und Zubehör.
Hammock OYSTER, weatherproof
---
Lieferzeit:
with you in 3 - 6 days
Details that convince:

weatherproof luxury hammock for 2 people
Spreader bars at the head/foot end made of stainless steel
Lying surface made of 5 panels, double-layered, padded with spacer fabric
dimensionally stable, ergonomic, comfortable lying surface of 125cm x 215cm
very stable, not wobbly, a lot of lying comfort
lush pillow with high-quality filling, format 90cm x 40cm
skin-friendly, breathable microgrid fabric
pleasantly airy skin-friendly in strong sunshine
insensitive to rain, sun & sea water
comes in 2 colors, sand + platinum
easy to care for, robust, durable
Lying load 250kg
incl. 2x2m suspension rope, 1,000kp breaking load
Incl. practical storage bag, 55cm x 35cm
including 2 integrated safety shackles made of stainless steel
Design and production takes place consistently in Germany

Comfortable luxurious hammock
We let our passion run free and designed a luxurious hammock, large, comfortable, stable, comfortable, aesthetic, for 1 and 2 people, ergonomic, weatherproof, with a huge cushion, practical storage bag, best workmanship. We named it OYSTER. Not only we are enthusiastic, but also our customer TUI Cruises. Because all "Himmel & Meer" luxury suites in the Mein Schiff fleet (MS3, MS4, MS5, MS 6) are equipped with OYSTER hammocks.

In order to achieve the perfect lying comfort in a hammock with spreader bars and 2-point suspension, we have provided the lying surface with 5 double-layered longitudinal panels with a padded spacer fabric. This stabilizes the width and also allows two people to lie in the hammock without rolling over one another. The huge pillow (same material and colour) with high-quality, weatherproof filling is cozy and comfortable at the same time. The storage pocket for books, Ipads, glasses, etc. attached to the spreader bar at the head is practical and easily accessible. For attachment, we have firmly attached heavy-duty safety snap shackles to both ends so that it can be hung up quickly and without any problems.

(The stainless steel stand LAZY is suitable for the OYSTER)

Technical information: Lying area (WxL) of 125cm x 215cm, lying load 250 kg, weight of the hammock including pillow and bag: 10 kg. Scope of delivery: all-weather hammock, 2 suspension ropes each 2 m, 2 stainless steel safety shackles.